Tuesday 08 May 2012
Prince Harry keen to get Chelsy Davy back but she wants to focus on work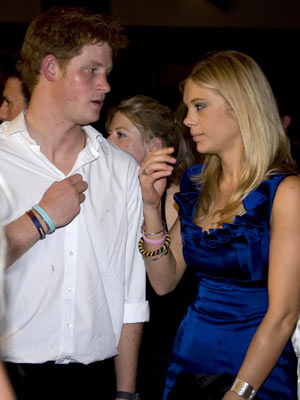 Prince Harry and Chelsy Davy have been romantically linked since 2004
Prince Harry is reportedly keen to be Chelsy Davy's boyfriend again - but she wants to concentrate on her career.
Now revealed last month that the pair, who have dated on-off since 2004, have been hooking-up during late-night dates.
'They've met in secret a few times over recent weeks,' said our insider.
Harry, 27, and Chelsy, 26, are 'hugely attracted to each other' but aren't an official couple again just yet.
Chelsy recently split with property developer Taylor McWilliams and is reportedly prioritising her job as a trainee solicitor over love.
'Harry definitely holds a torch for Chelsy,' a friend of the pair tells the Daily Star.
'That she is not rushing to get back with him makes him want her even more.
'At the moment, Chelsy says she's focused on her work and doesn't have time for a proper boyfriend.'
A spokesman for Prince Harry refuses to comment on his personal life.
SEE PICTURES Prince Harry beats Usain Bolt in a sprint on Diamond Jubilee visit to Jamaica>>
SEE PICTURES Prince Harry jets to Belize and the Bahamas on Diamond Jubilee tour>>
SEE PICTURES Prince Harry completes charity day trade>>
PHOTO GALLERY Prince Harry's former girl Florence Brudenell-Bruce models lingerie>>
Esme Riley