Tuesday 08 May 2012
Alex Reid tells Dan Wootton: I 'lost it' when Katie Price called Peter Andre an arsehole - she still has feelings for him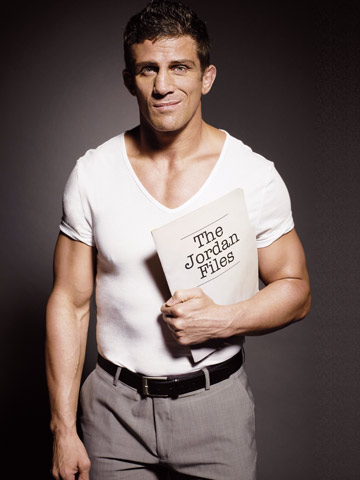 Alex Reid is expecting a child with Chantelle Houghton
For 16 torturous months, Alex Reid has kept silent on the truth behind the devastating end of his marriage to Katie Price.
Dan Wootton was the first journalist to interview Alex, 36, following the split last year, when he revealed he felt so low he considered suicide.
Now, he's engaged to Chantelle Houghton and they're expecting their first child any day now.
But back then the cross-dressing cage fighter wasn't able to discuss why the 33-year-old glamour model really dumped him.
But now, following Katie Price shock engagement to Leandro Penna, Alex admits 'it's fair to say' that Peter Andre cast a huge shadow on his relationship with Katie.
He reveals she talked about Pete 'all the time' and still has a statue of him in her home.
Katie said 'he's the biggest arsehole in the world. She accused him of doing this and that,' Alex tells Dan. 'In the beginning, I used to defend Pete and she hated that.
'There was one time when Katie and her friends were all talking about what an arsehole Pete was and I just lost it. I stormed out and screamed: "I don't want to hear about it."
'I don't have bitterness and hatred in my life.
'I met [Pete] for the first time and it was weird, but I thought he was
nice.
'Meeting him was another step forward in terms of me moving on.'
A lot of people believe Katie never stopped loving Pete and he's said he reckons Katie wants him back [she denies this]. Does Alex think she had feelings for him?

'Probably. I'm sure she did,' says Alex. 'It's more than likely she still does.'
Read Dan Wootton's full interview with Alex Reid in Now magazine dated 14 May 2012 - out now
SEE PICTURES Alex Reid and Katie Price's love story in photos>>
PHOTO GALLERY Chantelle Houghton and Preston's love story in photos>>
SEE PICTURES Katie Price's hen party>>
SEE PICTURES Is Alex Reid the new Peter Andre?>>
SEE PICTURES Peter Andre's night on the town with Nicola McLean and Chantelle Houghton>>
SEE PICTURES Alex Reid loves theme parks>>