Tuesday 08 May 2012
One Direction star Niall Horan enjoys drunken night out in home town and kisses pretty blonde girl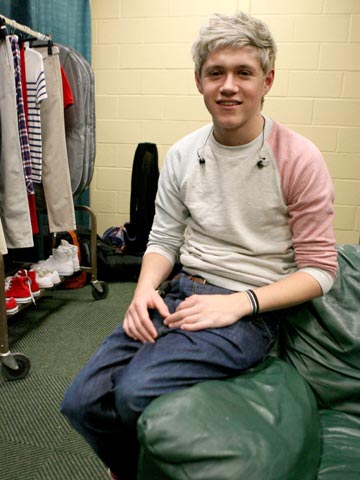 Niall Horan has now flown back to London
Niall Horan indulged in a boozy night out with friends and family in his home town of Mullingar in Ireland's County Westmeath over the weekend.
The 18-year-old One Direction singer was pictured pouting at the camera and giving a pretty blonde a kiss on the cheek in a student bar on Saturday night.
He was also snapped with his arms around two brunettes.
'Ooh heads sore this morning!' he Tweeted the next day.
But the morning after was worse for his dark-haired cousin Emma Horan, who was reportedly forced to delete her Twitter account after being hounded by 1D fans who'd mistaken her for Niall's girlfriend.
Niall is enjoying a break from work after touring North America, Australia and New Zealand for almost 3 months.
But it seems he's getting a little too used to his relaxed lifestyle.
'woo that was close, nearly missed the flight back to london tonight ! Last person on the plane, had t leg it !,' he Tweeted last night.
SEE PICTURE Niall Horan kisses Holly Scally two years ago>>
SEE PICTURES Niall Horan and One Direction sign copies of album Up All Night in New York to mark US release>>
SEE PICTURES Niall Horan and One Direction continue US tour without Zayn Malik>>
NEW PICTURES Niall Horan and One Direction and red carpet guests at the Brits 2012>>
SEE PICTURES Niall Horan and One Direction perform new song Gotta Be You on German TV show>>
SEE PICTURES Niall Horan and One Direction at Capital FM Jingle Bell Ball 2011>>
SEE EXCLUSIVE VIDEO Teen Now meets Niall Horan and One Direction>>
SEE VIDEO Niall Horan and One Direction mobbed by screaming fans in London>>
Anna Duff

Harry Styles supports Cancer Research UK

One Direction coming soon


Teen Now meets One Direction part 1
Teen Now meets
One Direction
part 2
Capital FM Jingle Bell Ball part 2