Sunday 20 May 2012
NEW LOVE! One Direction Harry Styles's new girlfriend is Inbetweeners star Emily Atack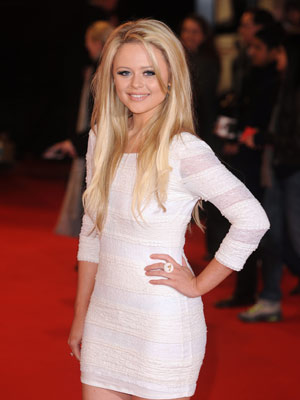 Emily Atack and Harry Styles have been drawn to each other
Harry Styles
is reported to have fallen for actress
Emily Atack
.
The One Direction hottie, who has been busy in the recording studio in Sweden following the boys' tour of Australia and New Zealand, has still managed to find time for romance.
Inbetweeners star Emily, 22, who also took part in Dancing On Ice, is 4 years older than 18-year-old Harry, but he does like a more mature girl.
'They're perfect for each other, they really are. They've been getting to know each other and keeping things quiet but they're close,' a friend tells the Sunday Mirror.
'Harry has always had a crush on her and hoped he could get it ­together with her and they eventually did.
'Everyone hopes they will become an item, but they're both being ­realistic. ­Harry's about to start a world tour and Emily's working non-stop.'
Emily has always fancied Harry and 2 years ago Tweeted: 'Does Harry from One ­Direction HAVE to be 16?! Let's pretend he's 18 at least! Then there would only be One ­Direction he would be going... to the bedroom!'
Since splitting with Caroline Flack, 22, Harry has been linked to Irish photographer Sarah-Louise Colivet, 24, and was snapped snogging model Emma Ostilly, 18, in New Zealand.
Although Emily was snapped with a guy looking remarkably like Harry, 1D fans aren't convinced it was actually their favourite boy.
SEE PICTURE Harry Styles and Ellis Calcutt out in Cheshire>>
PHOTO GALLERY Harry Styles' life in pictures>>
PICTURES Harry Styles and the 1D boys have fun in the sun in Australia>>
SEE PICTURES Harry Styles and One Direction show off hot new hair in sexy magazine shoot>>
SEE PICTURES Harry Styles and One Direction sign copies of album Up All Night in New York to mark US release>>
SEE PICTURES Harry Styles and One Direction perform new song Gotta Be You on German TV show>>
SEE VIDEO Harry Styles and One Direction mobbed by screaming fans in London>>
VIDEO: Harry Styles supports Cancer Research UK

VIDEO: One Direction coming soon
VIDEO: Teen Now meets One Direction part 1
VIDEO: Teen Now meets One Direction part 2
VIDEO: Capital FM Jingle Bell Ball part 2 with One Direction