Friday 04 May 2012
One Direction come out on top after The Wanted's album only reaches No 7 in US charts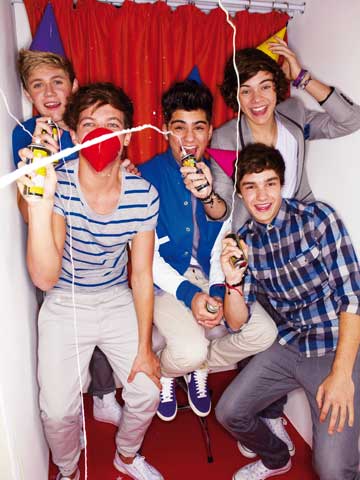 One Direction are back in the UK after their successful tour of the US, Australia and New Zealand
The contest between One Direction and The Wanted to win over American music fans is over - and it's Harry Styles and co who take the pop crown.
The Wanted's self-titled album, which was released in America on 24 April, has debuted at No 7 in the US Billboard chart.
Even though 1D's Up All Night has been out for 7 weeks, the X Factor boys are still ahead of their rivals in 4th spot.
Harry and band mates Louis Tomlinson, 20, Zayn Malik, 19, plus Niall Horan and Liam Payne, both 18, became the first ever British group to go straight to No 1 in the states with their debut album in March.
Though The Wanted haven't quite achieved 1D's success, the two groups are now friends after their jostling got bit bitchy at one stage.
The Wanted's Max George, 23, compared 1D to the Jonas Brothers and called their fans 'angry' - but now his band mate Nathan Sykes insists they're friends.
'We're all pals,' Nathan, 18, tells Metro. 'I was texting Liam.'
NEW PICTURES One Direction and red carpet guests at the Brits 2012>>
NEW PICTURES Celebrity hair at the Brits 2012>>
NEW PICTURES One Direction and other stars on the red carpet at the Brit Awards 2012>>
EXCLUSIVE PICTURES Caroline Flack shows exactly what Harry Styles sees in her>>
SEE PICTURES Harry Styles and One Direction perform new song Gotta Be You on German TV show>>
SEE PICTURES Harry Styles and One Direction at Capital FM Jingle Bell Ball 2011>>
SEE EXCLUSIVE VIDEO Teen Now meets Harry Styles and One Direction>>
SEE VIDEO Harry Styles and One Direction mobbed by screaming fans in London>>
SEE VIDEO Teen Now meets The Wanted>>
SEE PICTURES The Wanted take sell-out US tour to LA>>
SEE PICTURES The Wanted perform live on US radio show>>
Esme Riley

Harry Styles supports Cancer Research UK



One Direction coming soon
Teen Now meets One Direction part 1
Teen Now meets One Direction part 2
Capital FM Jingle Bell Ball part 2
EXCLUSIVE We've got The Wanted Part 1
EXCLUSIVE We've got The Wanted Part 2
EXCLUSIVE The Wanted: Help them choose new album name