Thursday 03 May 2012
Victoria Beckham gets embarrassed when husband David kisses her in front of 20,000 sports fans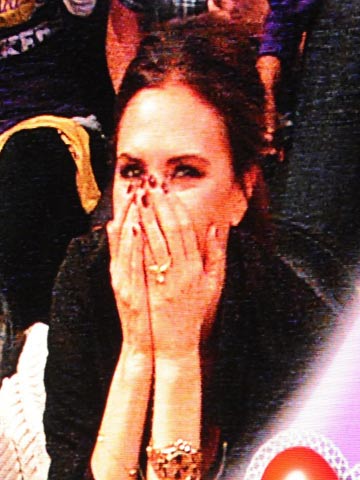 Victoria married David Beckham in 1999
Victoria Beckham came over all shy when she was forced to pucker-up to David Beckham on camera at a massive sports event.
The fashion designer hid her head in her hands when the KissCam at the LA Lakers basketball match focused in on her and loved-up David.
'Everyone cheered when they appeared on screen,' a fan tells the Daily Mirror.
'It was a bit of a shock but they looked like they were really enjoying each other's company.
'It was a touching moment.'
The couple were joined by David's mum Sandra and sister Joanne for the special evening to celebrate the footballer's 37th birthday.
Victoria later posted a picture of her gift for David on Twitter - basketball star Magic Johnson's yellow number 32 shirt.
'What do u get David for his birthday???? he loved it!!! X vb,' Tweeted Victoria, 38.
SEE PICTURE Victoria Beckham's birthday gift for husband David>>
SEE PICTURES Victoria Beckham and baby Harper Seven dress up to hit the shops>>
SEE PICTURES Victoria Beckham and Eva Longoria take baby Harper Seven to watch dad David play football in LA>>
SEE PICTURES Style queen Victoria Beckham and baby Harper Seven visit Marc Jacobs in New York>>
SEE PICTURES Victoria Beckham and Harper Seven show mum and baby style in New York>>
SEE PICTURES Pregnant Victoria Beckham and husband David leave New York hotel>>
SEE PICTURES Victoria and David Beckham launch new fragrance Signature in New York>>
SEE PICTURES David Beckham's changing hairstyles>>
SEE PICTURES Victoria and David Beckham: A love story in pictures>>
SEE PICTURES Victoria and David Beckham go out for dinner with the Ramsays>>
Anna Duff