Thursday 03 May 2012
Hey, One Direction fans! Date Harry Styles for 69p and make him virtually fall in love with you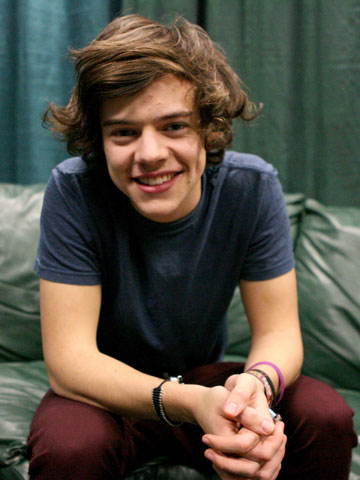 Harry Styles flew out to LA this week
One Direction fans can pay to make Harry Styles fall in love with them.
Unfortunately, all is not quite as it seems.
Harry Styles My Boyfriend is an application available on iTunes - so time spent with the singer will be strictly virtual.
Users can take animated Harry 'on dates until he falls in love with you so much that he proposes!'
Admirers, who pay just 69p for the original app, can choose whether to go for coffee or out for dinner with the 18-year-old and can even pucker-up for a kiss - though this costs extra.
Sadly, the real Harry is too busy to date his millions of smitten followers - though he did find the time to spend the evening with gorgeous model Emma Ostilly, 18, during his recent stay in New Zealand.
'She's just a friend,' Harry told a radio station in Auckland. 'She's working over here...I prefer not to talk about it.'
NEW PICTURES One Direction teen star Harry Styles' rise to fame>>
SEE PICTURES Harry Styles and One Direction perform new song Gotta Be You on German TV show>>
SEE PICTURES Harry Styles and One Direction at Capital FM Jingle Bell Ball 2011>>
SEE EXCLUSIVE VIDEO Teen Now meets Harry Styles and One Direction>>
SEE VIDEO One Direction mobbed by screaming fans in London>>
NEW PICTURES One Direction promote new single What Makes You Beautiful on Radio 1>>
Esme Riley