Wednesday 02 May 2012
The Wanted claim: We were told to face the wall when Britney Spears came down the corridor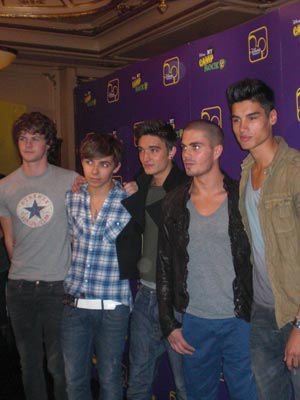 The Wanted are popular in America
The Wanted have claimed that Britney Spears' bodyguards ordered them not to look at the US singer when she walked past.
The boys say they were backstage trying to find Wi-Fi in the hallway before opening a concert with Britney, 30, when the diva-like incident happened.
'Britney's bouncers came down with her and told us to face the wall,' says Siva Kaneswaran, 23.
'We turned around and I faced the wall for about 10 seconds until she got really far away.'
The lads' allegations come days after they branded 31-year-old Christina Augilera a 'total bitch' for apparently snubbing them after their performance on The Voice.
The band later seemed to regret bad-mouthing Christina - and perhaps they should've also kept their mouths shut on this occasion.
'We signed a confidentiality thing that we should never say anything about what happened,' Tom Parker, 23, told New York's Fresh 102.7.
'But let's tell it anyway.'
Britney's spokesman says the claims are 'false'.
SEE VIDEO Teen Now meets The Wanted>>
SEE PICTURES The Wanted take sell-out US tour to LA>>
SEE PICTURES The Wanted perform live on US radio show>>
SEE PICTURES Michelle Keegan and The Wanted's Max George get sporty at Soccer Six>>
Esme Riley
EXCLUSIVE We've got The Wanted Part 1
EXCLUSIVE We've got The Wanted Part 2
EXCLUSIVE The Wanted: Help them choose new album name