Tuesday 05 June 2012
Kate and Pippa Middleton's former teacher: They're both tough girls but Pippa's better at taking knocks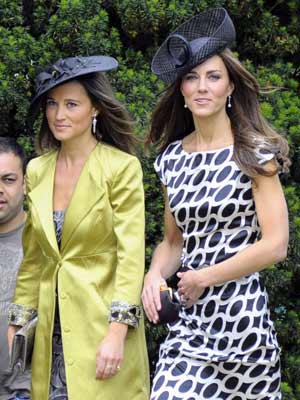 Kate and Pippa Middleton also have a brother, James
Kate and Pippa Middleton are strong girls who can handle their fame, according to their former teacher.
Kevin Allford, who taught the sisters French at Berkshire prep school St Andrew's, says Kate, 30, and Pippa, 28, are unlikely to buckle under the pressure of being public figures.
'They were both tough,' says Kevin.
'Though Pippa was tougher than her sister, better at taking knocks than Catherine.'
After Kate's wedding to Prince William, 29, in April 2011, Pippa became a global celebrity, with her bottom being discussed as passionately as Kate's stunning dress.
But as teenagers, the Middleton girls displayed no sibling rivalry.
'There was never fierce competition between the girls,' Kevin tells the Daily Mail.
'One never said to the other: "I can beat you."'
SEE PICTURES Kate Middleton attends friend's wedding in blue lace dress>>
NEW PICTURES Kate Middleton wows in Matthew Williamson dress at London film premiere with Prince William>>
SEE PICTURES Kate Middleton wows in Zara dress on night out with Prince William in London>>
SEE PICTURES Kate Middleton and Prince William visit riot victims in Birmingham>>
SEE PICTURES Kate Middleton and Prince William dazzle in LA>>
SEE PICTURES See Prince William and Kate Middleton on their visit to Prince Edward Island in Canada>>
SEE PICTURES Kate Middleton dazzles in ARK event>>
SEE PICTURES Prince William and Kate Middleton attend Epsom Derby 2011>>
ROYAL WEDDING GALLERY See the guests arrive for Prince William and Kate Middleton's special day>>
SEE PICTURES Kate Middleton wears elegant lace Sarah Burton dress for her wedding to Prince William>>
Anna Duff