Sunday 10 June 2012
Kate Middleton buys high street fashion because she wants style fans to be able to afford her look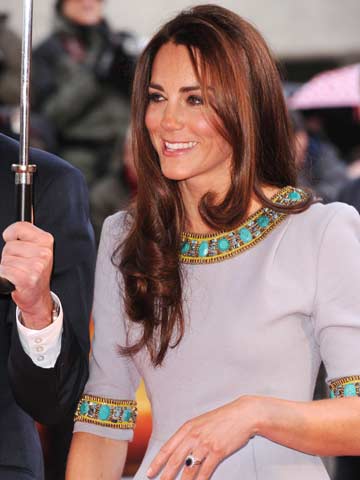 Kate Middleton has become a style icon
Kate Middleton does step out some designer brands - like the bright red Alexander McQueen dress she wore for the Thames Diamond Jubilee Pageant, but she still loves high street bargains.
Kate, 30, chose not to change her style completely after marrying Prince William, 29, because she didn't want her style fans to spend a fortune imitating her.
'She feels she has a responsibility towards them,' says a friend.
'That's one of the reasons why she buys so many of her clothes in chain stores such as Warehouse, Hobbs, Reiss and Zara.'
William's late mother Princess Diana was considered just as much of a style icon as Kate before her death at the age of 36 in 1997.
But Kate's love of the high street is something new to the Royal Family.
'Diana tended to wear haute couture clothes that people couldn't afford,' the friend tells the Daily Mail.
'Though cheap copies were often rushed out.'
SEE PICTURES Kate Middleton attends friend's wedding in blue lace dress>>
NEW PICTURES Kate Middleton wows in Matthew Williamson dress at London film premiere with Prince William>>
SEE PICTURES Kate Middleton wows in Zara dress on night out with Prince William in London>>
SEE PICTURES Kate Middleton and Prince William visit riot victims in Birmingham>>
SEE PICTURES Kate Middleton and Prince William dazzle in LA>>
SEE PICTURES See Prince William and Kate Middleton on their visit to Prince Edward Island in Canada>>
SEE PICTURES Kate Middleton dazzles in ARK event>>
SEE PICTURES Prince William and Kate Middleton attend Epsom Derby 2011>>
ROYAL WEDDING GALLERY See the guests arrive for Prince William and Kate Middleton's special day>>
SEE PICTURES Kate Middleton wears elegant lace Sarah Burton dress for her wedding to Prince William>>
Anna Duff