Thursday 03 May 2012
Kate Middleton thinks her bum is 'far superior' to Pippa's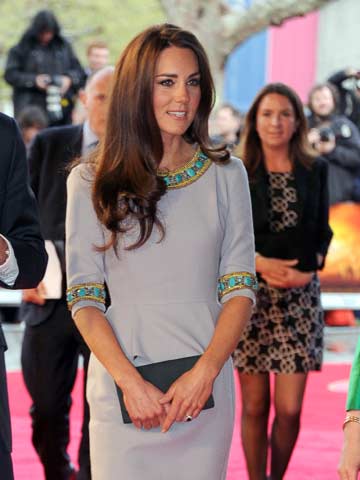 Kate Middleton celebrated her first wedding anniversary with Prince William on 29 April
Kate Middleton isn't jealous of the attention little sister Pippa got for her bottom at the Royal Wedding last year.
Kate, 30, actually found the media frenzy around 28-year-old Pippa's pert behind hilarious.
'She's done nothing but tease her about her "best feature",' says a friend.
'Not least, because Kate thinks hers is far superior.'
Last weekend marked a year since Kate and Prince William, 29, became husband and wife in Westminster Abbey.
Since her big day, the Duchess has proved herself to be extremely popular with both the public and the Royal Family.
'When you consider how easily things could have gone so badly wrong,' the friend tells the Daily Mail, 'you've got to marvel at how well it has turned out.'
SEE PICTURES Kate Middleton wears Orla Kiely dress for Royal engagement in London with Prince Charles>>
SEE PICTURES Kate Middleton keeps dress hidden under chic grey coat at first Royal engagement without Prince William>>
SEE PICTURES Kate Middleton Style File>>
NEW PICTURES Kate Middleton and Prince William visit riot victims in Birmingham>>
NEW PICTURES Kate Middleton and Prince William dazzle in LA>>
NEW PICTURES Prince William and Kate Middleton on their visit to Prince Edward Island in Canada>>
NEW PICTURES Kate Middleton dazzles at ARK event>>
Anna Duff