Thursday 26 April 2012
Holly Willoughby: I'd love to talk fashion with Kate Middleton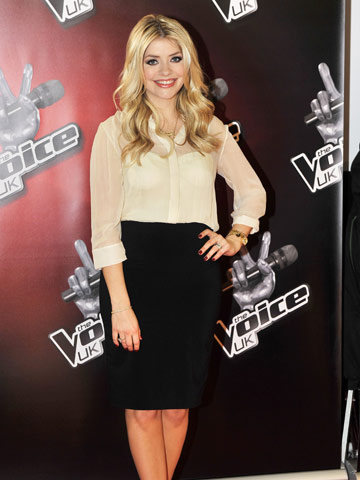 Holly Willoughby is best friends with fellow presenter Fearne Cotton
This weekend sees the live shows of The Voice kick off and nobody is more excited than co-host Holly Willoughby.

The move to the BBC has presented big changes for the mum-of-two. Not only is she having to adjust to a show with no ad breaks, but she's also revamping her wardrobe.

'I don't think I'll be opting for ballgowns. And glittery? I'm not too sure,' reveals Holly, 31.
'Whatever I get to wear I'm sure it will be Saturday-night-live-TV appropriate.'

Holly, who has revealed her magnificent boobs in low-cut gowns in the past, is now a fan of the Duchess of Cambridge's elegant look.

'I think she's amazing,' Holly tells The Daily Mirror. 'I'd love to talk shoes, clothes and wardrobes with Kate Middleton over a nice cup of tea.'
SEE PICTURES Kate Middleton wears Orla Kiely dress for royal engagement in London with Prince Charles>>
SEE PICTURES Kate Middleton keeps dress hidden under chic grey coat at first Royal engagement without Prince William>>
SEE PICTURES Kate Middleton Style File>>
NEW PICTURES Kate Middleton and Prince William visit riot victims in Birmingham>>
NEW PICTURES Kate Middleton and Prince William dazzle in LA>>
NEW PICTURES See Prince William and Kate Middleton on their visit to Prince Edward Island in Canada>>
NEW PICTURES Kate Middleton dazzles in ARK event>>
Melanie Macleod