Wednesday 25 April 2012
PICTURE Louis Tomlinson and Eleanor Calder look thrilled to be reunited after 1D's Up All Night tour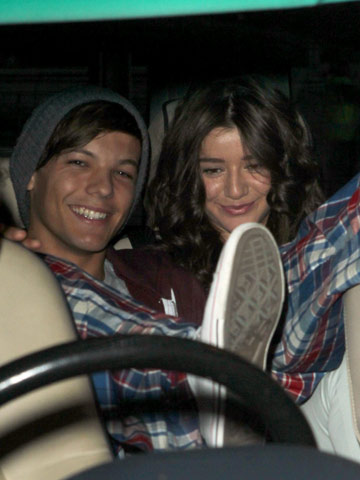 Louis Tomlinson and Eleanor Calder have been together for 6 months
Eleanor Calder went to Heathrow Airport to meet boyfriend Louis Tomlinson off the plane from New Zealand yesterday.
The couple haven't seen each other since Eleanor visited Louis during his time in America over 3 weeks ago - and they couldn't have looked happier to be together again.
'Can't remember the last time I was up at 8am! Xx,' Eleanor, 19, Tweeted before leaving to see her man arrive home in the UK.
Last week Louis, who left to tour the US, Australia and New Zealand at the beginning of February, was pining for his girl.
'Can't wait to see you :(,' Tweeted Louis, 20.
NEW PICTURES The boys are back - Louis Tomlinson and One Direction return to UK>>
MORE ONE DIRECTION PICTURES The 1D boys have fun in the sun in Australia>>
SEE PICTURES Louis Tomlinson and One Direction show off hot new hair in sexy magazine shoot>>
SEE PICTURES Louis Tomlinson and One Direction sign copies of album Up All Night in New York to mark US release>>
SEE PICTURES One Direction continue US tour without Zayn Malik>>
SEE PICTURES One Direction and red carpet guests at the Brits 2012>>
SEE VIDEO Louis Tomlinson and One Direction mobbed by screaming fans in London>>
Esme Riley
VIDEO: Harry Styles supports Cancer Research UK

VIDEO: One Direction coming soon
VIDEO: Teen Now meets One Direction part 1
VIDEO: Teen Now meets One Direction part 2
VIDEO: Capital FM Jingle Bell Ball part 2 with One Direction