Tuesday 24 April 2012
Prince Harry to travel to America to pick up award for wounded war hero charity work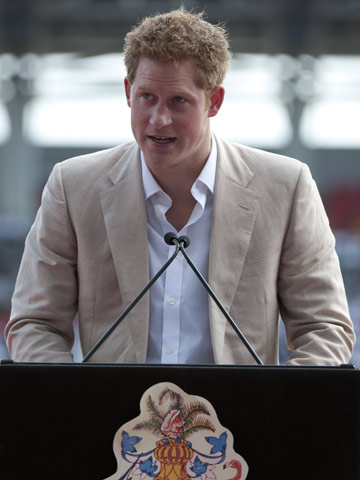 Prince Harry is an Army captain
Prince Harry and his brother William, 29, have been honoured with a top award for their military charity work.
Harry, 27, will fly to Washington on 7 May to receive the Atlantic Council's 2012 gong for 'distinguished humanitarian leadership'.
'Prince Harry will use the award to pay tribute to British and American veterans' charities for their achievements in helping rehabilitate wounded servicemen and women and to reintegrate those who have served in the Armed Forces back into civilian life,' St James's Palace say in a statement.
The siblings make regular visits to a rehabilitation centre for injured troops in Surrey and last year Harry joined the start of a 200-mile trek to the North Pole with wounded servicemen.
Former prize-winners include U2's Bono, 51, and media boss Rupert Murdoch, 81.
'Prince Harry to accept the award on behalf of The Foundation of Prince William and Prince Harry's work for veterans #supportingourtroops,' Tweets Clarence House.
SEE PICTURES Prince Harry beats Usain Bolt in a sprint on Diamond Jubilee visit to Jamaica>>
SEE PICTURES Prince Harry jets to Belize and the Bahamas on Diamond Jubilee tour>>
SEE PICTURES Prince Harry completes charity day trade>>
PHOTO GALLERY Prince Harry's former girl Florence Brudenell-Bruce models lingerie>>
MORE PICTURES Amazing facts about Kate Middleton - Prince William's wedding belle>>
SEE PICTURES Prince William revealed! Amazing facts about Kate Middleton's man>>
SEE PICTURES Kate Middleton and Prince William: Their love story in photos>>
ROYAL WEDDING GALLERY See the guests arrive for Prince William and Kate Middleton's special day>>
Esme Riley