Friday 27 April 2012
Jennifer Aniston postpones her engagement to Justin Theroux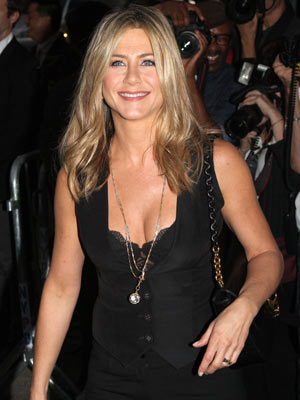 Jennifer Aniston was married to Brad Pitt for 5 years
Just hours after hearing the news that ex-husband Brad Pitt had given Angelina Jolie a diamond sparkler, Jennifer Aniston cancelled her plans to wed boyfriend Justin Theroux, 40.
An insider says: 'Jen was hoping to get engaged soon but now feels that it would make her look like a copycat. She's happy for Brad Pitt but it means she's put her plans on hold.'
So will Jen, 43, go to Brad's wedding?
'He'd like to invite her, but Angelina Jolie says it wouldn't feel right,' says our source.
#Understatement
Read more about Brad Pitt and Angelina Jolie's weird wedding plans in Now magazine dated 30 April - out now!
SEE PICTURES Jennifer Aniston Style File>>
SEE PICTURES Celebrity hair: Jennifer Aniston's styles over the years>>
SEE PICTURES Jennifer Aniston goes topless for perfume ad>>
SEE PICTURES Jennifer Aniston launches new fragrance in London>>
SEE PICTURES Jennifer Aniston shoots new movie>>
SEE PICTURES Brad Pitt and Angelina Jolie - a love story in photos>>
SEE PICTURES Engaged Celebrities>>