Monday 23 April 2012
Prince Harry tells the world: Will and Kate will run the London Marathon next year!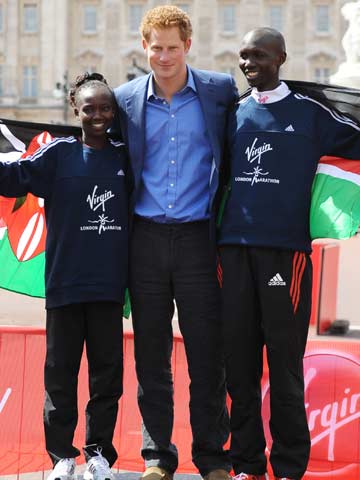 Prince Harry joins the winning runners at the London Marathon
Cheeky Prince Harry has told the nation that his brother William and wife Kate Middleton will be taking part in the London Marathon 2013.
The 27-year-old made the joke on live television at the finishing line of the 26.2 mile race, which had 37,500 successful participants this year.
'What's fantastic is that my brother and his wife will be doing it next year - I think,' said Harry.
He then laughed: 'He's going to have to now, isn't he?'
Wills, 29, and Kate, 30, wouldn't be the first royals to sign up to the run - Princess Beatrice, 23, took part in 2010.
But it seems the couple are as yet undecided.
'Harry's comments were made in jest,' a Clarence House spokesman tells The Sun.
'It's too early to say if the Duke and Duchess of Cambridge will take part next year.'
SEE PICTURES Prince Harry completes charity day trade>>
PHOTO GALLERY Prince Harry's former girl Florence Brudenell-Bruce models lingerie>>
SEE PICTURES Kate Middleton and Prince Harry dress down for Prince William's charity football match>>
SEE PHOTOS Prince Harry and Chelsy Davy: A love story in pictures>>
Esme Riley