Friday 20 April 2012
One Direction star Harry Styles 'fed up' with being compared to Susan Boyle?!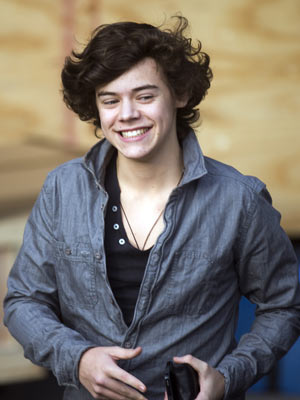 Harry Styles is currently in New Zealand with One Direction
Harry Styles is said to have had enough of people telling him he looks like Susan Boyle.
The mickey-taking began when One Direction's official dolls were released - and 12in plastic Harry bore a striking resemblance to the Scottish singer.
'We were really happy with the dolls,' band mate Louis Tomlinson, 20, said last year.
'Except Harry looks like Susan Boyle!'
Harry, 18, and 51-year-old Britain's Got Talent runner-up Susan's sweeping bouffant hairdos are considered their main similarity.
And it seems the taunting is worse than ever since the lads flew to America earlier this year.
'Someone jokingly started shouting "Susan, Susan" at him from across the street,' a source tells the Daily Star.
'The rest of the band thought it was hilarious and they were all bent double with laughter.
'But Harry is pretty fed up with the whole situation.'
MORE ONE DIRECTION PICTURES The 1D boys have fun in the sun in Australia>>
SEE PICTURES One Direction show off hot new hair in sexy magazine shoot>>
PHOTO GALLERY Harry Styles' life in pictures>>
SEE PICTURES One Direction sign copies of album Up All Night in New York to mark US release>>
SEE PICTURES One Direction continue US tour without Zayn Malik>>
SEE PICTURES One Direction and red carpet guests at the Brits 2012>>
SEE PICTURES Harry Styles and One Direction perform new song Gotta Be You on German TV show>>
SEE PICTURES Harry Styles and One Direction at Capital FM Jingle Bell Ball 2011>>
SEE EXCLUSIVE VIDEO Teen Now meets Harry Styles and One Direction>>
SEE VIDEO Harry Styles and One Direction mobbed by screaming fans in London>>
Esme Riley
Harry Styles supports Cancer Research UK
One Direction coming soon

Teen Now meets One Direction part 1
Teen Now meets
One Direction
part 2
Capital FM Jingle Bell Ball part 2 with One Direction