Saturday 21 April 2012
One Direction star Zayn Malik's mum: I still do all his washing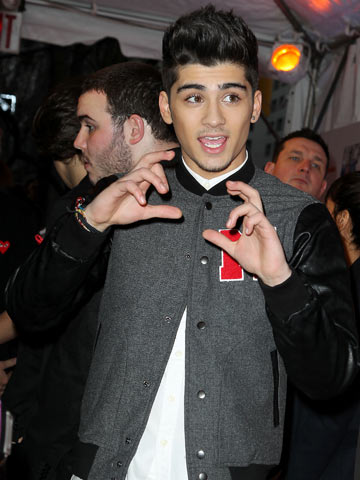 Zayn Malik is currently in New Zealand with One Direction
Zayn Malik's mum Tricia Brannan still likes to pamper the One Direction star.
Tricia, 42, who lives in Bradford with Zayn's dad Yaser and 3 sisters, likes to make sure he has clean clothes when he's in the UK.
'I go to London a lot and do all his washing,' says Tricia.
Tricia hasn't had to deal with death threats in the same way that 19-year-old Zayn's band mate Harry Styles' mum Anne Cox has.
But she says some of 1D's eager fans are just as keen to meet her as they are to meet Zayn.
'My life hasn't changed dramatically. I still do things I always did. But the thing that's changed is I'm known as Zayn's mum and get recognised,' Tricia tells the Daily Mirror.
'It's flattering but scary sometimes.
'I was in Wolverhampton when me and my daughter had to be removed by security as it looked like we'd be mobbed.'
SEE PICTURES Harry Styles and One Direction perform new song Gotta Be You on German TV show>>
SEE PICTURES Harry Styles and One Direction at Capital FM Jingle Bell Ball 2011>>
SEE EXCLUSIVE VIDEO Teen Now meets Harry Styles and One Direction>>
SEE VIDEO One Direction mobbed by screaming fans in London>>
NEW PICTURES One Direction promote new single What Makes You Beautiful on Radio 1>>
EXCLUSIVE PICTURES Caroline Flack shows off exactly what Harry Styles sees in her>>
NEW PICTURES Caroline Flack joins stars at National TV Awards 2012>>
Sophie Yates