Wednesday 18 April 2012
VIDEO One Direction's Harry Styles keels over in pain as he's hit in the balls on stage in Sydney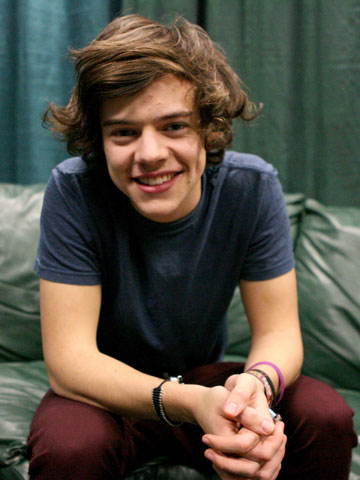 Harry Styles has a problem Down Under
Harry Styles was left in agony on stage in Australia after a stuffed toy was aimed at his crotch.
The One Direction singer winced and grabbed his groin after a member of the audience hurled the cuddly wombat with incredible accuracy.
The incident happened during the boys' performance at the Hordern Pavilion in Sydney while Harry and his band mates were singing a cover of Gym Class Heroes.
Harry, who's now in Brisbane for another concert tonight, otherwise enjoyed his time in the city.
'Sydney looks amazing at night..' Tweeted Harry, 18.
WATCH VIDEO Harry Styles struggles to hide his pain...
MORE ONE DIRECTION PICTURES The 1D boys have fun in the sun in Australia>>
SEE PICTURES One Direction show off hot new hair in sexy magazine shoot>>
PHOTO GALLERY Harry Styles' life in pictures>>
SEE PICTURES One Direction sign copies of album Up All Night in New York to mark US release>>
SEE PICTURES One Direction continue US tour without Zayn Malik>>
SEE PICTURES One Direction and red carpet guests at the Brits 2012>>
SEE PICTURES Harry Styles and One Direction perform new song Gotta Be You on German TV show>>
SEE PICTURES Harry Styles and One Direction at Capital FM Jingle Bell Ball 2011>>
SEE EXCLUSIVE VIDEO Teen Now meets Harry Styles and One Direction>>
SEE VIDEO Harry Styles and One Direction mobbed by screaming fans in London>>
Esme Riley
VIDEO: One Direction's Harry Styles supports Cancer Research UK

VIDEO: One Direction coming soon
VIDEO: Teen Now meets One Direction part 1
VIDEO: Teen Now meets
One Direction
part 2
VIDEO: One Direction at Capital FM Jingle Bell Ball part 2