Wednesday 18 April 2012
One Direction's Louis Tomlinson: Harry Styles was fined for walking around naked in Sweden!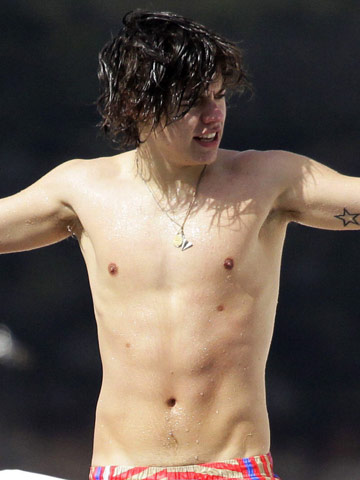 Harry Styles has been sunning his bod in Australia
Harry Styles' love of nudity is no secret.
The One Direction singer Harry happily admits he finds stripping off 'liberating' and that he's not a shy boy.
'Harry likes to be naked all the time,' confirms Louis Tomlinson, 20, who was once woken up by the curly-haired hottie hitting him round the head with his penis.
But in liberated Scandanavia, Harry might have taken his nuddy stunts a bit too far.
'He got a hefty fine in Sweden for walking around butt naked,' Louis revealed in an interview Down Under.
Harry added: 'And then in Amsterdam, we hired these little boats. I got told to get out by the owners because I didn't have any clothes on.'
The cheeky chaps' spokesman later insisted they were only joking.
MORE ONE DIRECTION PICTURES The 1D boys have fun in the sun in Australia>>
SEE PICTURES One Direction show off hot new hair in sexy magazine shoot>>
PHOTO GALLERY Harry Styles' life in pictures>>
SEE PICTURES One Direction sign copies of album Up All Night in New York to mark US release>>
SEE PICTURES One Direction continue US tour without Zayn Malik>>
SEE PICTURES One Direction and red carpet guests at the Brits 2012>>
SEE PICTURES Harry Styles and One Direction perform new song Gotta Be You on German TV show>>
SEE PICTURES Harry Styles and One Direction at Capital FM Jingle Bell Ball 2011>>
SEE EXCLUSIVE VIDEO Teen Now meets Harry Styles and One Direction>>
SEE VIDEO Harry Styles and One Direction mobbed by screaming fans in London>>
Esme Riley
VIDEO: One Direction's Harry Styles supports Cancer Research UK

VIDEO: One Direction coming soon
VIDEO: Teen Now meets One Direction part 1
VIDEO: Teen Now meets
One Direction
part 2
VIDEO: One Direction at Capital FM Jingle Bell Ball part 2