Saturday 28 April 2012
David Beckham: Victoria lets the boys sleep in our bedroom when she's had a glass of wine!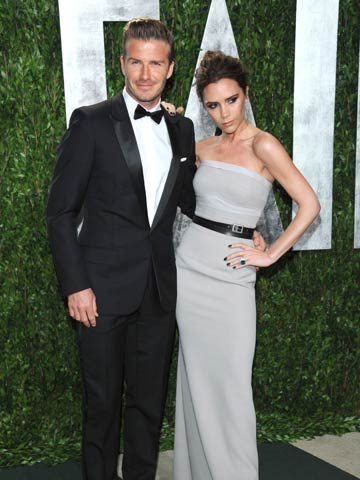 David and Victoria Beckham have been married since 1999
Victoria and David Beckham's 3 sons are very close to their parents.
Brooklyn, 13, Romeo, 9, and Cruz, 7, love it when they're allowed to sleep in the couple's bedroom.
'They cuddle up like little peas in a pod, but only on a non-school night,' says Victoria, 38.
David adds: 'Or when Mummy's had a glass of wine.'
Victoria and David, 36 - who are also parents to 9-month old daughter Harper Seven - settled in LA after David transferred from football club Real Madrid to LA Galaxy in 2007.
The family are content in their home, which Victoria chose and decorated with interior designer Kelly Hoppen before the rest of her family flew to the States.
'I wanted everything to be perfect when David and the boys arrived,' Victoria tells Vogue.
'When he left Spain with the children and flew over, I'd bought the house, decorated the house, candles were lit.
'He literally walked in, put his case down, and it was perfect.'
SEE PICTURES Victoria Beckham and baby Harper Seven dress up to hit the shops>>
SEE PICTURES Victoria Beckham and Eva Longoria take baby Harper Seven to watch dad David play football in LA>>
SEE PICTURES Style queen Victoria Beckham and baby Harper Seven visit Marc Jacobs in New York>>
SEE PICTURES Victoria Beckham and Harper Seven show mum and baby style in New York>>
SEE PICTURES Pregnant Victoria Beckham and husband David leave New York hotel>>
SEE PICTURES Victoria and David Beckham launch new fragrance Signature in New York>>
SEE PICTURES David Beckham's changing hairstyles>>
SEE PICTURES Victoria and David Beckham: A love story in pictures>>
SEE PICTURES Victoria and David Beckham go out for dinner with the Ramsays>>
Anna Duff