Sunday 29 April 2012
Simon Cowell gives One Direction £10 million for their 7 months of success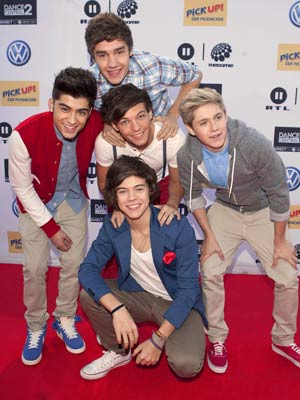 One Direction have just arrived home
Simon Cowell is handing a fortune of £10 million to One Direction just 7 months after the release of their debut single What Makes You Beautiful.
Heartthrobs Zayn Malik, 19, Louis Tomlinson, 20, plus Harry Styles, Niall Horan and Liam Payne, all 18, will earn an impressive £2 million each.
'Simon Cowell wants them to know what they deserve,' says a source.
'They have been a massive success, what they have achieved is phenomenal.
'They have made him an absolute fortune and he is incredibly proud.'
Simon thinks that 1D are the hardest working people in pop at the moment.
They had a sell-out tour in the UK before heading to the US, where they became the most successful UK band ever when they conquered the Billboard 200 with album Up All Night.
The boys continued their quest for world domination with a mini-tour of Australia and New Zealand.
'He always saw potential in them and now it's paying off,' the source tells The People.
'Girls across the globe simply love them.'
SEE PICTURES One Direction sign copies of album Up All Night in New York to mark US release>>
SEE PICTURES One Direction continue US tour without Zayn Malik>>
NEW PICTURES One Direction and red carpet guests at the Brits 2012>>
SEE PICTURES Harry Styles and One Direction perform new song Gotta Be You on German TV show>>
SEE PICTURES Harry Styles and One Direction at Capital FM Jingle Bell Ball 2011>>
SEE EXCLUSIVE VIDEO Teen Now meets Harry Styles and One Direction>>
SEE VIDEO Harry Styles and One Direction mobbed by screaming fans in London>>
Sophie Yates