Monday 16 April 2012
Matt Cardle: I teased Cher Lloyd for kissing One Direction - in front of her fiance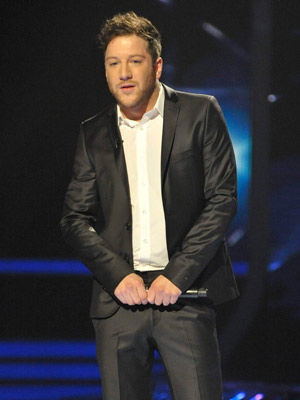 Matt Cardle won The X Factor 2010
X Factor 2010 winner Matt Cardle didn't bond with controversial contestant Cher Lloyd on the show.
'All I can say is that she's young,' Matt, 29, tells Now's Dan Wootton.
'Some people didn't conduct themselves in a way that everyone agreed with. She had beef.'
Matt and Cher were on The X Factor road show together and he didn't let her forget about being linked with Zayn Malik and Harry Styles during the TV series.
'I was teasing her about kissing the One Direction lads,' Matt admits.
'Her fiancé [Craig Monk] was there at the time and I don't think he appreciated it.
'We bumped into each other outside having a cigarette and it was all a bit cool. Awkward!'
Read Dan Wootton's full interview with Matt Cardle in Now magazine dated 16 April 2010 - out now!
SEE PICTURES Matt Cardle at Big Gig UK 2012>>
PHOTO GALLERY The X Factor finalists - then and
now>>
SEE PICTURES The X Factor 2010 - Matt Cardle and the finalists' stylish
makeovers>>
SEE PICTURES The X Factor 2010 - the live shows>>
SEE PICTURES The X Factor 2010 - finalists prepare for
live shows>>
SEE PICTURES The X Factor 2010 - final 12 get
makeovers>>
SEE PICTURES The X Factor 2010 - final 12>>
SEE

PICTURES The X Factor 2010 - auditions>>