Friday 13 April 2012
One Direction fan bids £65,000 for Niall Horan's half-chewed toast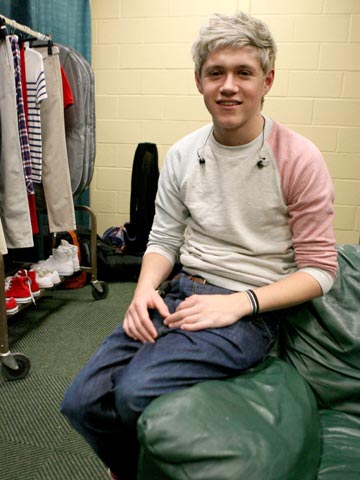 Niall Horan is the only Irish member of One Direction
An eager One Direction fan has bid £65,000 on a piece of toast that Niall Horan spat out live on Australian TV.
The band were testing foods on morning programme Sunrise when Niall, 18, took a dislike to the Vegemite-covered bread.
After the boys left the studio, a member of staff picked up the discarded food and listed it on eBay as Toast Half-eaten by Niall from One Direction on Sunrise - with the proceeds going to children's charity Young Care - before the item quickly racked up 111 bids.
'For one lucky Directioner, that dream is about to become an easily digestible reality!' reads the eBay listing.
'Now you can be the proud owner of this piece of half-eaten toast which passed the lips of the blonde singer.
'We will not be including the mouthful that Niall spat out - because that's just gross.'
Niall had earlier Tweeted about his experience with the Aussie spread.
'can clearly say vegemite is horrible! Like tryin new stuff though,' he Tweeted.
But it seems the winning bidder may not be getting their hands on Niall's leftovers after all - the listing has been ended by the seller because the item is no longer available.
Maybe it just went mouldy...
SEE PICTURES One Direction continue US tour without Zayn Malik>>
SEE PICTURES One Direction wow at Wolverhampton warm-up concert ahead of Up All Night tour>>
NEW PICTURES One Direction teen star Harry Styles' rise to fame>>
SEE EXCLUSIVE VIDEO Teen Now meets One Direction>>
SEE VIDEO One Direction mobbed by screaming fans in London>>
SEE VIDEO One Direction's Harry Styles and Louis Tomlinson fool around in rehearsals>>
NEW PICTURES One Direction promote new single What Makes You Beautiful on Radio 1>>
Anna Duff

VIDEO: One Direction's Harry Styles supports Cancer Research UK

VIDEO: One Direction coming soon
VIDEO: Teen Now meets One Direction part 1
VIDEO: Teen Now meets
One Direction
part 2
VIDEO: One Direction at Capital FM Jingle Bell Ball part 2