Thursday 12 April 2012
One Direction's Harry Styles linked to another older woman after US promo tour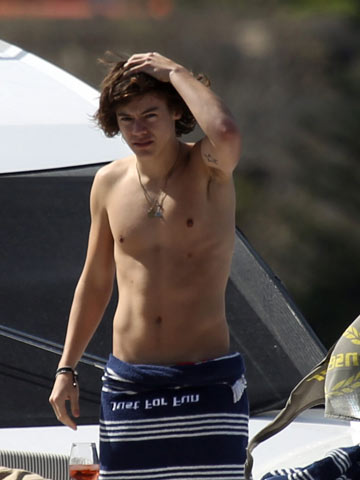 Harry Styles is now in Australia with One Direction
Harry Styles has reportedly grown 'very close' to a 24-year-old photographer he met in America.
The One Direction heartthrob is said to have hooked up with gorgeous brunette Sarah-Louise Colivet twice in recent weeks and the pair have even apparently shared a number of kisses.
'It's true, she has struck up a friendship with him,' Sarah's mum Jacinta tells The Sun.
'They met in New York.
'She said he was great fun and a really nice guy.
'They'll definitely stay in touch.'
Harry was yesterday forced to deny he was dating singer Lily Halpern, 19, who joined 1D as a support act on Big Time Rush's US tour.
The 18-year-old insists he's single after splitting with 32-year-old Caroline Flack back in January.
'Please know I didn't 'dump' caroline. This was a mutual decision.
She is one of the kindest, sweetest people I know. Please respect that,' Tweeted Harry at the time of the break up.
PHOTO GALLERY Harry Styles' life in pictures>>
SEE PICTURES One Direction sign copies of album Up All Night in New York to mark US release>>
SEE PICTURES One Direction continue US tour without Zayn Malik>>
SEE PICTURES One Direction and red carpet guests at the Brits 2012>>
SEE PICTURES Harry Styles and One Direction perform new song Gotta Be You on German TV show>>
SEE PICTURES Harry Styles and One Direction at Capital FM Jingle Bell Ball 2011>>
SEE EXCLUSIVE VIDEO Teen Now meets Harry Styles and One Direction>>
SEE VIDEO Harry Styles and One Direction mobbed by screaming fans in London>>
Esme Riley
VIDEO: One Direction's Harry Styles supports Cancer Research UK

VIDEO: One Direction coming soon
VIDEO: Teen Now meets One Direction part 1
VIDEO: Teen Now meets
One Direction
part 2
VIDEO: One Direction at Capital FM Jingle Bell Ball part 2