Thursday 12 April 2012
Chelsy Davy tells Cheryl Cole: Hands off Prince Harry!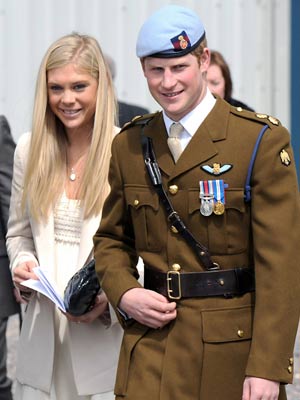 Prince Harry and Chelsy Davy have been in an on-off relationship for years
It'd be a match made in showbiz heaven - Cheryl Cole getting wed to Prince Harry.
But one person 
who might not be so pleased to hear Cheryl's been dreaming of becoming Harry's bride is his on-off squeeze Chelsy Davy.
Now revealed last week how Harry, 27, has been enjoying late night hook-ups with his ex-girlfriend over the past month.
The pair had even been talking about giving their six-year relationship another go.
We're told Harry's driving 
the reunion with Zimbabwe-born Chelsy, 26, who he split up with early last year.
Now's exclusive source reveals even Prince William has got involved, saying: 'Get Chelsy to commit or let her go for good.'
Now it seems 28-year-old Cheryl's remarks may have helped Harry's plight.
A friend of Chelsy's tells us: 'It made her laugh. She swears she's not threatened by Cheryl and says Harry doesn't like girls with tattoos.
'She thinks Cheryl should stick to the music - and stay away from Harry!'
Read the full story about Chelsy Davy, Cheryl Cole and Prince Harry in Now magazine dated 16 April 2012 - out now!
SEE PICTURES Prince Harry beats Usain Bolt in a sprint on Diamond Jubilee visit to Jamaica>>
SEE PICTURES Prince Harry jets to Belize and the Bahamas on Diamond Jubilee tour>>
SEE PICTURES Prince Harry completes charity day trade>>
PHOTO GALLERY Prince Harry's former girl Florence Brudenell-Bruce models lingerie>>
MORE PICTURES Amazing facts about Kate Middleton - Prince William's wedding belle>>
SEE PICTURES Prince William revealed! Amazing facts about Kate Middleton's man>>
SEE PICTURES Kate Middleton and Prince William: Their love story in photos>>
ROYAL WEDDING GALLERY See the guests arrive for Prince William and Kate Middleton's special day>>