Wednesday 11 April 2012
Chantelle Houghton begs Katie Price: I need to know about Alex Reid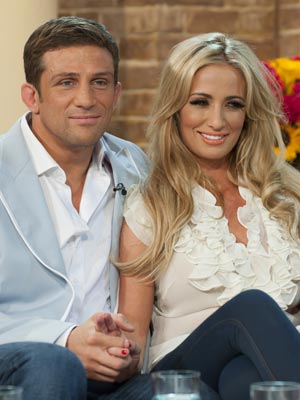 Chantelle Houghton and Alex Reid have been dating since April 2011
Pregnant Chantelle Houghton's desperate for a heart-to-heart with Katie Price before she marries her ex, Alex Reid, Now can reveal.
The former CBB star's been rowing with fiancé Alex, 36, over the past few months after he branded her 'Pregzilla'.
And Chantelle, 28, has confided in friends that she's desperate to meet Katie, 33, before their wedding.
'Chantelle knows Alex will be furious - and there's no love lost between her and Katie,' says our source.
'She cares for Alex deeply, but she'd like to hear Katie's views on some things.'
Chantelle, who's seven months pregnant, has been dating Alex since April 2011 and they got engaged in November. But the reality star was in tears after she learnt Alex had been Tweeting Katie's former protégé Amy Willerton, 19.
It came as Now revealed the pair had been arguing a lot as Chantelle struggled to cope with her hormones.
Their wedding's now postponed 'til next year.
A source close to Chantelle said she'd had a text from someone claiming to be Katie who'd heard she wanted see her.
However, Chantelle's spokesman strongly denies she wants to meet Katie.
Read the full story about Chantelle Houghton and Alex Reid in Now magazine dated 16 April 2012 - out now!
SEE PICTURES Chantelle Houghton in Pregnant celebrities>>
SEE PICTURES Celebrity births 2011>>
SEE PICTURES Celebrity births 2010>>
SEE PICTURES Celebrity baby names A to Z>>
SEE PICTURES Pregnant Chantelle Houghton and Alex Reid join stars at The Baby Show in London>>

SEE PICTURES Is Alex Reid the new Peter Andre?>>
SEE PICTURES Alex Reid and Katie Price's love story in photos>>
SEE PICTURES Alex Reid loves theme parks>>