Thursday 05 April 2012
OMG! One Direction to release record with Justin Bieber?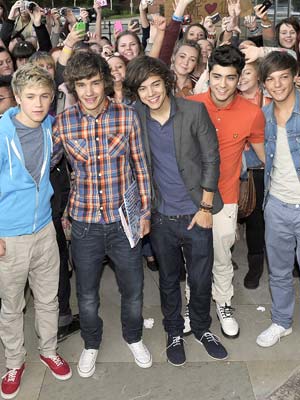 One Direction are currently in the US
Like the idea of One Direction and Justin Bieber teaming up for a track?
Well, if Niall Horan's latest Tweet is anything to go by, a duet between the pop superstars could be on the cards.
'In the studio with our boy @justinbieber last night , its gona sound great!' writes Niall, 18.
And judging by his followers' reactions, 1D fans would love to see the band collaborate with the 18-year-old Canadian cutie.
'Oh my...I'm going to have a heart attack,' says one.
Another adds: 'This makes my life!'
We so hope this is going to happen. (Well, some of us do, anyway.)
SEE PICTURES Danielle Payne joins Liam Payne and Harry Styles pool-side>>
SEE PICTURE Danielle Peazer and Liam Payne look loved-up in Twitter photo>>
SEE PICTURES One Direction sign copies of album Up All Night in New York to mark US release>>
SEE PICTURES One Direction continue US tour without Zayn Malik>>
NEW PICTURES One Direction and red carpet guests at the Brits 2012>>
SEE PICTURES Harry Styles and One Direction perform new song Gotta Be You on German TV show>>
SEE PICTURES Harry Styles and One Direction at Capital FM Jingle Bell Ball 2011>>
SEE EXCLUSIVE VIDEO Teen Now meets Harry Styles and One Direction>>
SEE VIDEO Harry Styles and One Direction mobbed by screaming fans in London>>