Sunday 08 April 2012
Olly Murs: I'll be One Direction's bodyguard when I join them on US tour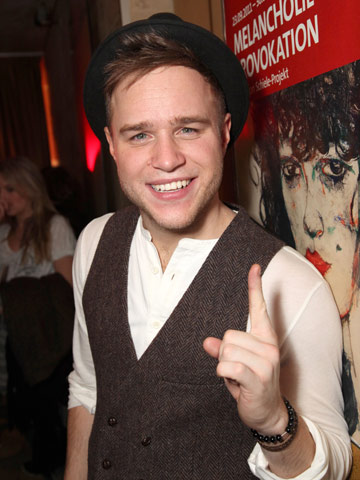 Olly Murs will open for One Direction on their North American tour
Olly Murs has a plan of action to protect One Direction if they get mobbed by female fans on their first headline North American tour.
Olly, 27, says he'll look after the band when he joins them as a special guest at their shows in the US and Canada from 29 May.
'I'm looking forward to being their bodyguard if they need me to,' says Olly.
'[The girls aren't] a problem but it depends how old they are.
'Unfortunately, I know the boys are a lot younger than me so...'
Despite the age gap between Olly and Louis Tomlinson, 20, Zayn Malik, 19, plus Liam Payne, Niall Horan and Harry Styles, all 18, the singer is looking forward to going on the road with 1D.
'It's going to be a laugh,' says Olly.
'Six lads on a nice holiday through America singing a few songs. I'm excited.'
SEE PICTURES Olly Murs performs hot new single Heart Skips A Beat on This Morning>>
SEE PICTURES Olly Murs performs special live acoustic show in Austria>>
SEE PICTURES Harry Styles and Caroline Flack party at the same club after the Brit Awards 2012>>
SEE PICTURES One Direction continue US tour without Zayn Malik>>
SEE PICTURES One Direction wow at Wolverhampton warm-up concert ahead of Up All Night tour>>
SEE PICTURES One Direction teen star Harry Styles' rise to fame>>
SEE EXCLUSIVE VIDEO Teen Now meets One Direction>>
SEE VIDEO One Direction mobbed by screaming fans in London>>
SEE VIDEO One Direction's Harry Styles and Louis Tomlinson fool around in rehearsals>>
SEE PICTURES One Direction promote new single What Makes You Beautiful on Radio 1>>
Anna Duff