Wednesday 04 April 2012
The next One Direction girlfriend? Niall Horan and Demi Lovato exchange 'flirty texts'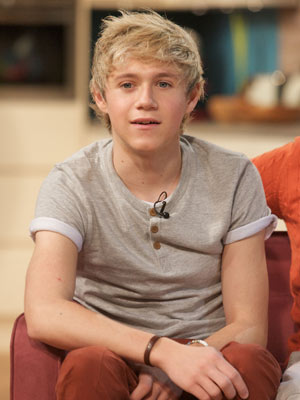 Niall Horan is proving popular with American girls
Demi Lovato has caught the eye of 18-year-old One Direction star Niall Horan - and she seems just as keen.
Though they're yet to meet, the pair are said to have sent a few flirty texts to each other and Niall is keen for things to happen.
'It'd be good,' says Niall.
'I'd like to see her all right and she's a similar age.
'She seems to be a nice girl.'
And when asked the identity of her celebrity crush, Disney actress and singer Demi admits it's Irish Niall.
'He's so adorable!' says Demi, 19.
Demi counts boy band singer Joe Jonas, 22, and actor Wilmer Valderrama, 32, among her exes.
SEE PICTURES One Direction continue US tour without Zayn Malik>>
SEE PICTURES One Direction wow at Wolverhampton warm-up concert ahead of Up All Night tour>>
NEW PICTURES One Direction teen star Harry Styles' rise to fame>>
SEE EXCLUSIVE VIDEO Teen Now meets One Direction>>
SEE VIDEO One Direction mobbed by screaming fans in London>>
SEE VIDEO One Direction's Harry Styles and Louis Tomlinson fool around in rehearsals>>
NEW PICTURES One Direction promote new single What Makes You Beautiful on Radio 1>>
Esme Riley
VIDEO: One Direction's Harry Styles supports Cancer Research UK

VIDEO: One Direction coming soon
VIDEO: Teen Now meets One Direction part 1
VIDEO: Teen Now meets
One Direction
part 2
VIDEO: One Direction at Capital FM Jingle Bell Ball part 2