Thursday 05 April 2012
Helen Flanagan: My secret eating disorder made me lie to my parents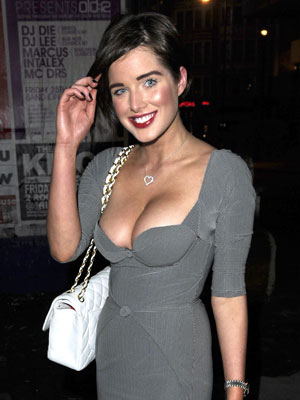 Helen Flanagan played Rosie Webster in ITV's Coronation Street
She regularly flaunts her enviable curves in figure-hugging dresses, but Helen Flanagan's revealed that she wasn't always so confident.
Aged just 15, the ex-Corrie star admits she suffered body issues and was diagnosed with 'borderline anorexia'.
'It feels so dramatic saying you have an eating disorder out loud,' she says.

'I was never dangerously underweight, but when I was 15 my periods stopped and I didn't get them again until I sought help.'

Helen, 21, says that bullies at school and the pressures of being on TV affected the way she viewed her developing body.

'I didn't like the changes. I wanted to keep my slim frame,' she says.

'I started watching everything I ate and counting calories. When I saw how good I was at keeping myself skinny, I couldn't stop.
'I'd lie to my parents, saying I'd eaten when I hadn't. On school days, I'd carefully measure out cereal in the morning or have low-fat ice cream, then not eat for the rest of the day.

'I'd go to the gym and force myself to do two hours in the pool.'
Helen, who's 5ft 3in, admits her weight fell to under 7st and she shrunk to a size 4.
Read the full story about Helen Flanagan in Now magazine dated 9 April 2012 - out now!
SEE PICTURES Helen Flanagan wears low-cut nude dress on London night out>>
SEE PICTURES Helen Flanagan wows in sexy dress at Coronation Street co-star Katherine Kelly's leaving party>>
SEE PICTURES Helen Flanagan in Fashion Kicks>>
SEE PICTURES Helen Flanagan at National Television Awards>>
PHOTO GALLERY The celebrity boob job>>