Monday 02 April 2012
ONE DIRECTION BABY JOY! Harry Styles pregnant - and Louis Tomlinson is the dad...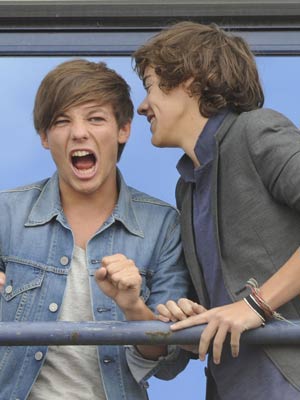 Louis Tomlinson and Harry Styles met on The X Factor in 2010
Louis Tomlinson shocked his 2,226,388 Twitter followers on 1 April yesterday when he revealed that he's going to be a dad.
Many presumed the One Direction star and model girlfriend Eleanor Calder were to be parents - but then The X Factor followed Louis's Tweet with shock news that band mate Harry Styles, 18, was the one expecting his child.
'We can confirm that @Harry_Styles IS pregnant. If it's a girl he's calling it Anne. If it's a boy, Juan Direction Styles. #HarrysPregnant,' Tweeted The X Factor.
'#CongratsLarryForTheBaby a welcome addition to the #XFactor family. ;-).'
Harry and Louis, whose bromance has earned them the nickname Larry Stylinson, last week laughed off rumours they were in a relationship.
But the baby hype soon calmed down when joker Louis came clean.
'April fool :),' Tweeted Louis, 20.
SEE PICTURES One Direction continue US tour without Zayn Malik>>
SEE PICTURES One Direction wow at Wolverhampton warm-up concert ahead of Up All Night tour>>
NEW PICTURES One Direction teen star Harry Styles' rise to fame>>
SEE EXCLUSIVE VIDEO Teen Now meets One Direction>>
SEE VIDEO One Direction mobbed by screaming fans in London>>
SEE VIDEO One Direction's Harry Styles and Louis Tomlinson fool around in rehearsals>>
NEW PICTURES One Direction promote new single What Makes You Beautiful on Radio 1>>
Esme Riley
VIDEO: One Direction's Harry Styles supports Cancer Research UK

VIDEO: One Direction coming soon
VIDEO: Teen Now meets One Direction part 1
VIDEO: Teen Now meets
One Direction
part 2
VIDEO: One Direction at Capital FM Jingle Bell Ball part 2