Sunday 10 June 2012
Abbey Clancy: I was too frightened to speak to Victoria Beckham the first time I met her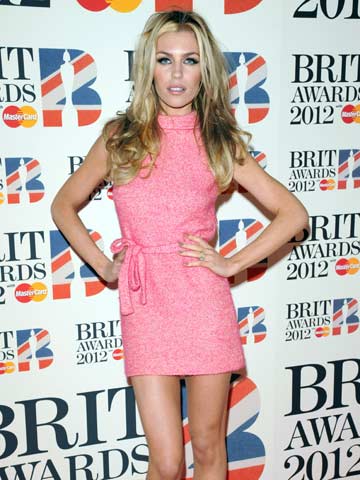 Abbey Clancy is married to footballer Peter Crouch
Abbey Clancy may now be a footballer's wife herself, but she wasn't so comfortable with the WAG lifestyle when she first started dating Peter Crouch in 2006.
Abbey, 26, admits she was too frightened to speak to Victoria Beckham during a football match in Portugal shortly after the couple got together.
'It was really strange because I was really young, 19, and at the meal in the evening Victoria Beckham was sitting there, and David Beckham and all these players you only see on TV, and their wives,' says Abbey.
'I felt quite intimidated and my clothes were crap.'
Despite feeling a little out of place among Peter's team mates' partners, Abbey wasn't put off the 6ft 7in striker.
The couple welcomed their first daughter Sophia Ruby last March and married 3 months later.
'I knew he'd be my boyfriend,' Abbey tells The Independent Magazine.
'[It was] just a feeling. I knew he was the one.'
NEW PICTURES Abbey Clancy joins guests at the GQ Men Of The Year Awards 2011>>
SEE PICTURES Abbey Clancy and Peter Crouch - their love story>>
SEE PICTURES Abbey Clancy in Celebrity births 2011>>
PHOTO GALLERY Abbey Clancy takes mum to India>>
SEE PICTURES David Beckham arrives at Victoria's fashion show with Harper Seven>>
SEE PICTURES David Beckham shows off hot body to model new H&M underwear collection>>
Anna Duff