Wednesday 14 March 2012
One Direction security stepped up in US after Niall Horan mobbed in Times Square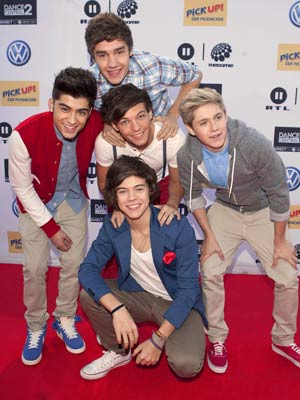 One Direction's debut album is No 1 in the US iTunes chart
One Direction are causing such a frenzy in America that the police have twice been called to where they're staying in New York - prompting their management to heighten security around the boys.
Niall Horan, 18, was mobbed as he attempted to take photos in Times Square and had to return with his minder to the band's hotel, which was surrounded by admirers.
'Fans were crying and shaking when they caught a glimpse of the band,' a witness tells Metro.
'It was very surreal.
'Others were banging on the glass of the windows and hotel managers were worried they would smash the glass.'
Fears for The X Factor finalists' safety comes after their debut album Up All Night reached No 1 in the US iTunes chart and their mini concert at the city's Rockefeller Plaza gathered a record-breaking crowd of 15,000.
The boys also treated Z100 listeners to an acoustic web performance that drew in 40,000 listeners - 6 times more than Justin Bieber.
NEW PICTURES One Direction and red carpet guests at the Brits 2012>>
SEE PICTURES Harry Styles and One Direction perform new song Gotta Be You on German TV show>>
SEE PICTURES Harry Styles and One Direction at Capital FM Jingle Bell Ball 2011>>
SEE EXCLUSIVE VIDEO Teen Now meets Harry Styles and One Direction>>
SEE VIDEO Harry Styles and One Direction mobbed by screaming fans in London>>
Esme Riley
VIDEO: One Direction's Harry Styles supports Cancer Research UK

VIDEO: One Direction coming soon


VIDEO: Teen Now meets One Direction part 1
VIDEO: Teen Now meets
One Direction
part 2
VIDEO: Capital FM Jingle Bell Ball part 2 with One Direction