Monday 12 March 2012
One Direction's Harry Styles and Louis Tomlinson in trouble after 'smashing up' bowling alley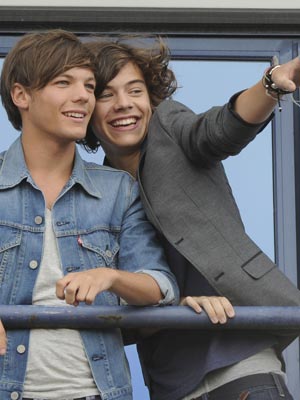 Louis Tomlinson and Harry Styles currently live together
Harry Styles and his One Direction band mate Louis Tomlinson are naughty boys.
The pair mangled the machinary at a US bowling alley because they decided to break the rules.
'We'd taken over a lane, played about 2 games and then got a bit bored,' admits Louis, 20.
'So we started an experiment, throwing 2 or 3 balls at the same time.'
Not unpredictably, this messed up the mechanism that clears away the pins.
'The whole things came off its hinges. It totally broke,' Louis tells the Daily Mirror.
'We got a slap on the hand and were told off by the label for that.'
Harry, 18, admitted he found it 'quite funny - but no one else thought so'.
The boys have been supporting Big Time Rush on tour and were celebrating after their final show at New York's Radio City Hall.
'Got to go now.. Last day of the tour.. Better smash it!' Louis Tweeted earlier in the day.
NEW PICTURES One Direction and red carpet guests at the Brits 2012>>
SEE PICTURES Harry Styles and One Direction perform new song Gotta Be You on German TV show>>
SEE PICTURES Harry Styles and One Direction at Capital FM Jingle Bell Ball 2011>>
SEE EXCLUSIVE VIDEO Teen Now meets Harry Styles and One Direction>>
SEE VIDEO Harry Styles and One Direction mobbed by screaming fans in London>>
Esme Riley
Harry Styles supports Cancer Research UK

One Direction coming soon


Teen Now meets One Direction part 1
Teen Now meets One Direction part 2
Capital FM Jingle Bell Ball part 2