Tuesday 13 March 2012
Nadine Coyle on Girls Aloud 2013 comeback: Cheryl Cole and I were never enemies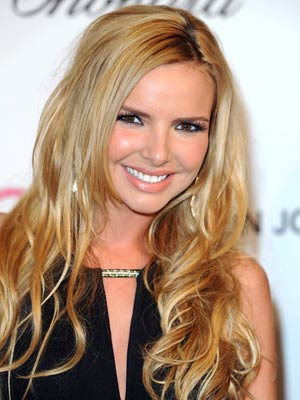 Nadine Coyle now lives in LA
Girls Aloud star Nadine Coyle is delighted that the group are set to reform early next year after taking a break in 2009 to pursue solo projects.
Nadine, 26, whose solo album Insatiable flopped, is keen to get back on the road with Cheryl Cole, Nicola Roberts, Kimberley Walsh and Sarah Harding.
'It will be arena dates at the start of next year and we will have new music to go with it,' says Nadine.
'I'm definitely looking forward to seeing the girls. It's been a long time since we've all been in the same room together.'
The news comes almost ten years after the band were originally formed on TV talent show Popstars: The Rivals in 2002.
Nadine dismisses rumours she's jealous of band mate Cheryl solo success - and that she's estranged from others.
'The truth is there's no big problem with me and the girls,' Nadine tells the Sunday Mirror.
'Everyone was so keen to put Cheryl and me against each other, but we just weren't enemies.
'Cheryl was always going to do far better chart-wise. She was on X Factor to begin with.'
SEE PICTURES Cheryl Cole and Nicola Roberts support Girls Aloud bandmate Kimberley Walsh at her Shrek debut>>
SEE PICTURES Kimberley Walsh - Girls Aloud kick off Out Of Control tour>>
FASHION GALLERY SPECIAL Cheryl Cole's fashion history - the highs and the lows>>
NEW PICTURES Cheryl Cole wears nude dress to meet Prince Charles>>
SEE PICTURES Cheryl and Ashley Cole: The story so far>>
MORE PHOTOS Cheryl Cole looking red hot at the Elle Style Awards 2011>>
SEE PICTURES The life of Ashley Cole's ex Cheryl Cole>>
MORE PHOTOS Cheryl Cole looking red hot at the Elle Style Awards 2011>>
Carl Smith