Sunday 04 March 2012
Victoria Beckham: I laughed when David sang the National Anthem at the Royal Wedding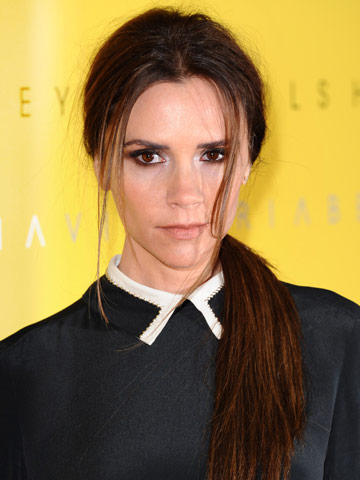 Victoria Beckham launched her new fashion collection 2 weeks ago
Victoria Beckham says she couldn't help sniggering when husband David sang the National Anthem at the Royal Wedding last April.
The couple joined 1900 other guests for Prince William and Kate Middleton's nuptials at Westminster Abbey - but a tickled Victoria clearly wasn't used to hearing Becks' vocal talents.
'David sang the National Anthem,' says Victoria, 37.
'That was funny for me to hear.'
Despite her serious persona, Victoria says she wouldn't have been bothered if she and David, 36, had been snapped mid-song.
These days, she's more worried about the success of her fashion line - which debuted its new collection at London Fashion Week 2 weeks ago - than what people think of her.
'The older I get, the less I worry about the press. I am no longer the red carpet girl I once was. I just want to be a designer,' Victoria tells the Daily Star.
'When you see me with XXL sunglasses and slightly sulky pout that's my way of protecting myself.
'I know it gives off a certain image of me - but never mind.'
SEE PICTURES Victoria Beckham and baby Harper Seven dress up to hit the shops>>
SEE PICTURES Victoria Beckham and Eva Longoria take baby Harper Seven to watch dad David play football in LA>>
SEE PICTURES Style queen Victoria Beckham and baby Harper Seven visit Marc Jacobs in New York>>
SEE PICTURES Victoria Beckham and Harper Seven show mum and baby style in New York>>
SEE PICTURES Pregnant Victoria Beckham and husband David leave New York hotel>>
SEE PICTURES Victoria and David Beckham launch new fragrance Signature in New York>>
SEE PICTURES David Beckham's changing hairstyles>>
SEE PICTURES Victoria and David Beckham: A love story in pictures>>
SEE PICTURES Victoria and David Beckham go out for dinner with the Ramsays>>
Anna Duff