Tuesday 28 February 2012
Lewis Hamilton's dad urged him to get back together with 'amazing' Nicole Scherzinger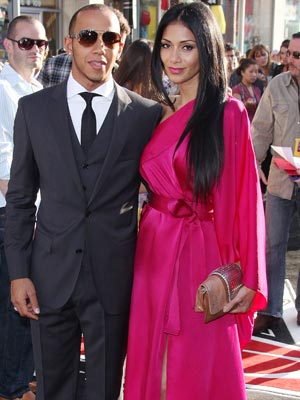 Lewis Hamilton and Nicole Scherzinger started dating in 2007
Nicole Scherzinger and Lewis Hamilton have reconciled - and it seems he's got his dad to thank.
Anthony Hamilton told his son he needed a settled personal life if he was to have another go at winning the Formula One championship - so Lewis took his advice on board and worked to win back Nicole, who he split with in October.
'Anthony pointed out that Nicole was an amazing lady and that she wouldn't wait around for long,' says a friend.
Pussycat Doll Nicole, 33, stayed close to Lewis' family during their brief split, which saw the F1 ace attending a number of parties as a solo man.
But now he's back with Nicole, 27-year-old Lewis is reportedly keen to settle down.
'He's had 4 months to live the life of a single millionaire F1 driver and is now in it for the long haul,' the friend tells the Daily Star.
'His family think there will be a wedding by the end of next year.'
SEE PICTURES Lewis Hamilton and Nicole Scherzinger - a love story in photos>>
SEE PICTURES Nicole Scherzinger at the 2011 Fox Upfront Presentation>>
SEE PICTURES Nicole Scherzinger and Lewis Hamilton attend National Movie Awards>>
SEE PICTURES Nicole Scherzinger's sexy fashion shoot>>
SEE PICTURES Celebrity splits 2011>>
Esme Riley