Thursday 23 February 2012
Sheepish Lily Allen reveals secret of how she gets baby Ethel to sleep at night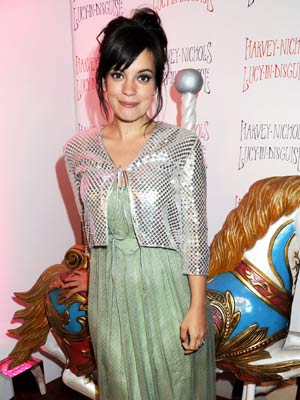 Lily Allen is married to construction boss Sam Cooper
Lily Allen has found a fool-proof way of getting her baby daughter to nod off.
The 26-year-old, who gave birth to baby Ethel Mary in November, has been using a special toy to encourage her little girl to sleep.
'Whoever bought this for / sent this to me THANK YOU !!!!! Dont know if i could survive without EWAN THE DREAM SHEEP,' Tweets Lily.
Easidream's Ewan emits soothing sounds at a low base frequency and a calming pink glow.
'This one is quite good too,' writes Lily, posting a link to Lullaby Light-Up Lamb.
But it hasn't all been easy for thenew mum.
She struggled with a bad back through her pregnancy and shortly after giving birth had a few problems with soggy boobs.
'I feel sick,' Tweeted Lily in January.
'And
I left the house without breast pads and started leaking all over
myself at the #Wolsley .oh and I wiped out in the street earlier #glam.'
SEE PICTURES Lily Allen in Celebrity births 2011>>
SEE PICTURE Lily Allen and her baby bump at Halloween>>
SEE PICTURES Lily Allen marries Sam Cooper - see their wedding photos>>
SEE PICTURES The life of Lily Allen - her story in photos>>
SEE PICTURES Lily Allen Style File>>
Esme Riley