Thursday 16 February 2012
Kate Middleton sends Prince William tight boxer shorts for Valentine's Day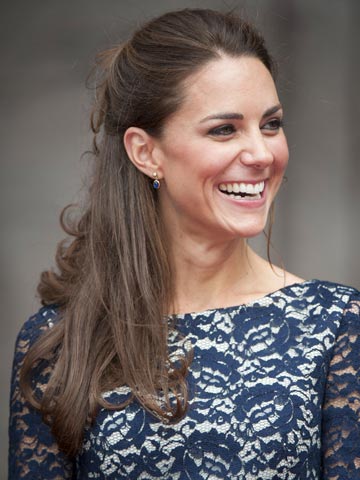 Kate Middleton married Prince William in April 2011
Cheeky Kate Middleton sent a pair of snug boxers to Prince William for their first Valentine's Day as a married couple.
Kate, 30, posted the tight-fitting stretchy briefs to 29-year-old William - who's away in the Falklands with the RAF for 6 weeks - after choosing the perfect pair in exclusive Chelsea department store Peter Jones.
'The shorts are very popular and very trendy,' says a shop insider.
'Kate knew what she wanted when she came in and went for the boxed trunks that give a very nice fit.'
Romantic Wills sent his wife a more traditional gift on 14 February - a bunch of flowers with a card reading: "Missing you".
But keen shopper Kate clearly knew what would make the ideal present for her Royal hubby.
'She is in here a lot buying clothes and stuff for their homes,' the insider tells The Sun.
'It's nice to know we can be of such use.'
SEE PICTURES Kate Middleton keeps dress hidden under chic grey coat at first Royal engagement without Prince William>>
SEE PICTURES Kate Middleton Style File>>
NEW PICTURES Kate Middleton and Prince William visit riot victims in Birmingham>>
NEW PICTURES Kate Middleton and Prince William dazzle in LA>>
NEW PICTURES See Prince William and Kate Middleton on their visit to Prince Edward Island in Canada>>
NEW PICTURES Kate Middleton dazzles in ARK event>>
Anna Duff