Thursday 09 February 2012
Harry Styles suffering bad back injury but is going to drop his tailbone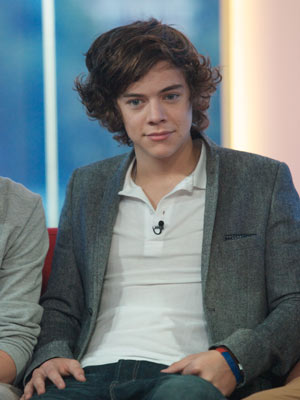 Harry Styles' band One Direction are nominated for a Brit Award
Harry Styles might soon be turning up at his local Pilates exercise class in his skintight leotard to learn how to drop his tailbone.
The One Direction star has put his back out - and as he has no girlfriend to nurse him better after his split with Caroline Flack, 32, last month, he's been advised to improve his balance and boost his core strength.
'I have bad posture and I've been told to take Pilates once a week,' Harry tells The Sun.
But the pain can't be too bad - Harry's been enjoying a very active social life since becoming a single man.
The 18-year-old has been partying all night watching the Super Bowl, attending intimate dinner parties and even eating at 33-year-old footballer Rio Ferdinand's Manchester restaurant.
'Had a lovely meal at @rossorestaurant last night. Best Michael Buble impersonation I've ever heard from @astewartmusic . Thanks again .x,' Tweeted Harry this week.
NEW PICTURES One Direction teen star Harry Styles' rise to fame>>
SEE PICTURES Harry Styles and One Direction perform new song Gotta Be You on German TV show>>
SEE PICTURES Harry Styles and One Direction at Capital FM Jingle Bell Ball 2011>>
SEE EXCLUSIVE VIDEO Teen Now meets Harry Styles and One Direction>>
SEE VIDEO One Direction mobbed by screaming fans in London>>
NEW PICTURES One Direction promote new single What Makes You Beautiful on Radio 1>>
Esme Riley