Tuesday 31 January 2012
Michelle Heaton: I had to wait hours for the doctors to arrive before I could have my baby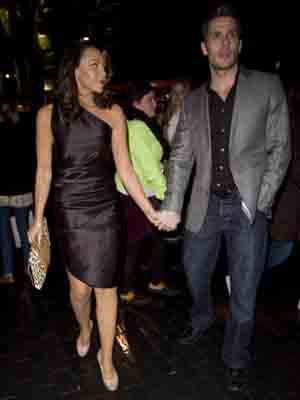 Michelle Heaton and personal trainer Hugh Hanley married in July 2010
Michelle Heaton has revealed that she and husband Hugh Hanley 'freaked out' when she went into labour a week before she was booked in for a caesarean.
Michelle suffers from heart condition Mobitz Type 1 and was told she had to have a C-section for her own safety.
When her waters broke earlier than expected, she was rushed to hospital in the early hours of the morning.
'At 4 o'clock the doctor prepped me and said he didn't feel comfortable doing the C-section because he was too junior to deal with such a special case,' says Michelle, 31.
'They said I had to wait until the day doctors came in at 8 o'clock.'
But their little girl - who they've named Faith Michelle Hanley - wasn't willing to wait and Michelle started getting contractions just minutes later.
After a 'painful but do-able' wait, Michelle was prepped for theatre and given an epidural, but they had problems getting it in.
'They tried again and she was out within 5 minutes,' gushes Michelle.
'She cried in a few seconds and she was perfect.'
SEE PICTURES Celebrity births 2011>>
SEE PICTURES Celebrity births 2010>>
PHOTO GALLERY Pregnant celebrities>>
SEE PICTURES Celebrity baby names A to Z>>
SEE PICTURES Michelle Heaton gets tattoo to mark wedding to Hugh Hanley
SEE PICTURES Michelle Heaton stretchered away after London Marathon
SEE VIDEO Michelle Heaton falls flat on her face
Esme Riley