Friday 27 January 2012
SHOCK SPLIT! Harry Styles: It's over but I didn't dump sweet Caroline Flack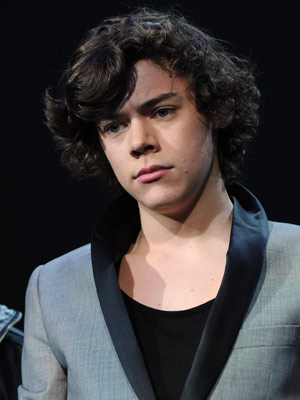 Harry Styles is single again
Harry Styles has confirmed on Twitter that he and Caroline Flack have split.
The One Direction star was reported to have ended things with Caroline after worrying their romance was getting too serious, but Harry says this wasn't the case.
'Please know I didn't 'dump' caroline. This was a mutual decision. She is one of the kindest, sweetest people I know. Please respect that,' Tweets Harry, 17.
Caroline put her relationship troubles behind her on Wednesday night to step out solo at the National Television Awards in London, while Harry tours the country with 1D.
The Xtra Factor host, 32, was subjected to online abuse after news surfaced she'd hooked up with Harry - who's 17 years her junior - at a party back in October.
'Some people tend to want to see the negative immediately and that's what I find really strange,' Caroline told us last year.
'If two people like each other and get on, why does anyone else find a negative in it?
'I know it's human nature for everyone to gossip. But why say it's bad?
'No one's being hurt at all in any way.'
SEE PICTURES The Celebrity Split 2011>>
NEW PICTURES Caroline Flack joins stars at National TV Awards 2012>>
NEW PICTURES Celebrity hair at National TV Awards 2012>>
EXCLUSIVE PICTURES Caroline Flack shows off exactly what Harry Styles sees in her>>
SEE PICTURES Harry Styles and One Direction perform new song Gotta Be You on German TV show>>
SEE PICTURES Harry Styles and One Direction at Capital FM Jingle Bell Ball 2011>>
SEE EXCLUSIVE VIDEO Teen Now meets Harry Styles and One Direction>>
SEE VIDEO One Direction mobbed by screaming fans in London>>
NEW PICTURES One Direction promote new single What Makes You Beautiful on Radio 1>>
Esme Riley