Sunday 29 January 2012
David Beckham: I never wanted to be famous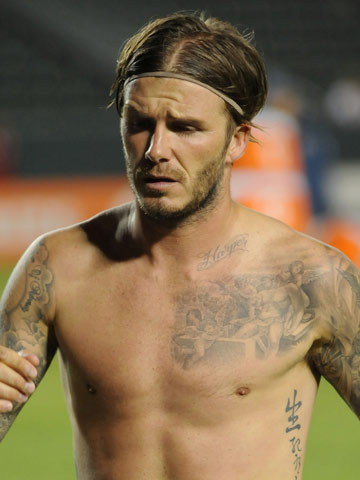 David Beckham has four children with wife Victoria
David Beckham is worshipped by millions of fans, but he never longed to be a celebrity.
The LA Galaxy star and his fashion designer wife Victoria Beckham, 37, didn't plan to end up one the most high-profile couples in the world.
'I never wanted to be famous,' says David, 36.
'I was never interested in anything else apart from becoming a footballer.'
Prior to his move to LA, Becks played for high profile UK team Manchester United before joining one of the top Spanish sides, Real Madrid.
'Some assume that I make decisions based on a club's brand,' David tells Men's Health.
'But that's not true.
'There's not one club I've been to for the brand. I have only ever made decisions for the good of my football career.'
NEW PICTURES Victoria Beckham and baby Harper Seven dress up to hit the shops>>
SEE PICTURES Victoria Beckham and Eva Longoria take baby Harper Seven to watch dad David play football in LA>>
SEE PICTURES Style queen Victoria Beckham and baby Harper Seven visit Marc Jacobs in New York>>
SEE PICTURES Victoria Beckham and Harper Seven show mum and baby style in New York>>
SEE PICTURES Pregnant Victoria Beckham and husband David leave New York hotel>>
SEE PICTURES Victoria and David Beckham launch new fragrance Signature in New York>>
SEE PICTURES David Beckham's changing hairstyles>>
SEE PICTURES Victoria and David Beckham: A love story in pictures>>
SEE PICTURES Victoria and David Beckham go out for dinner with the Ramsays>>
Esme Riley