Thursday 19 January 2012
PM David Cameron: I was so excited to see Frank Lampard at an awards event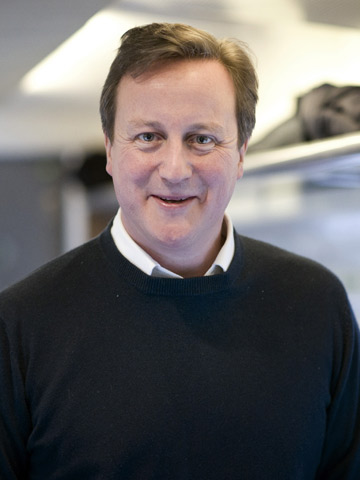 Prime Minister David Cameron admires Sir Stelios Haji-Ioannou
When Prime Minister David Cameron, 45, visited the troops in Afghanistan, Now went with him.
Features Editor Kate Taylor asked the PM if he'd ever been starstruck.

'Before I became a politician - OK, this is really sad - I once spotted Stelios from EasyJet
in the street,' David recalled.
'I crossed the road to tell him how brilliant he was
because I thought it was such a brilliant idea to create a no-frills
airline.'

What about the likes of the Beckhams?

'Oh, I still get a bit starstruck,' he admitted.

'I saw Frank Lampard last night at an awards event, which was exciting for me, but I'm not a Chelsea fan... '

So you just walked past him?

'No, I said hello! I was still excited to see him.'
Read the full interview with David Cameron in the latest issue of Now magazine dated 23 January 2012 - out now!