Tuesday 10 January 2012
Harry Styles: Naughty naked picture is not me!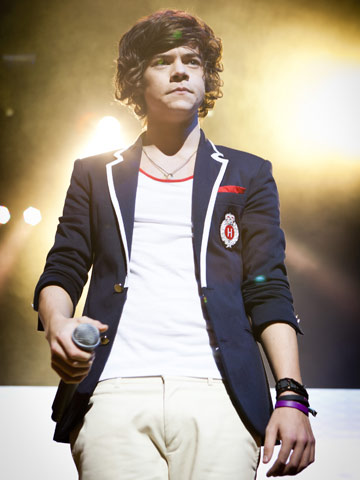 Harry Styles likes to take his clothes off but not this time
One Direction's hottie Harry Styles has denied that he's the curly-haired teenager in an X-rated photo online.
The cheeky 17-year-old says the male figure, who appears to be flashing his impressive todger in a bathroom snap, is definitely not him.
One Directionettes thought it might be their favourite boy because the young man not only wears a necklace similar to Harry's, The X Factor finalist has also often spoken about liking to strip off.
Band mate Zayn Malik, 18, posted a photo of Harry with his naked bum in full view in September.
'I used to moon a bit at school because it made me laugh,' admits Harry.

'I just like to be free. Being naked makes me feel alive - we should all do it.'
One Direction's Louis Tomlinson also revealed early last year that he and his band mates have got nude pics of one another.
Louis, 20, Harry, 17, Niall Horan, 18, Liam Payne, 18, and Zayn Malik, 19, took the saucy snaps when the show's official tour rolled into Scotland.
'We went to the seaside in Aberdeen,' says Louis, 19. 'It was absolutely freezing, but we all skinny-dipped! We took photos of all of us.'
'We've got them locked away somewhere nobody can find them.'
SEE EXCLUSIVE VIDEO Teen Now meets One Direction>>
SEE VIDEO One Direction mobbed by screaming fans in London>>
NEW PICTURES One Direction promote new single What Makes You Beautiful on Radio 1>>
SEE PICTURES The X Factor final 16 contestants settle into their new house>>