Saturday 07 January 2012
Jennifer Aniston: I'm here for you, Demi Moore...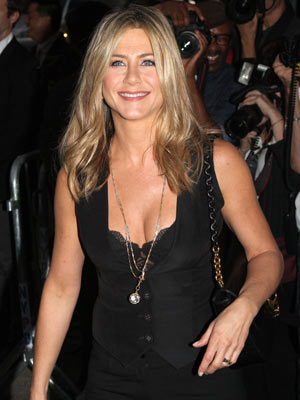 Good friend Jennifer Aniston comforts a devastated Demi Moore after her split with Ashton Kutcher
She's the queen of the A-list split, so it's no wonder that Demi Moore's turned to none other than Jennifer Aniston to help her cope following her marriage breakdown.
Demi has been seeking comfort from 42-year-old Jen after spending her first Christmas without her hubby of 6 years Ashton Kutcher.

'Jen knows better than anyone what it's like to have a break-up in the public eye,' reveals a friend of the former Mrs Brad Pitt.

'Demi feels publicly humiliated and Jen can totally empathise.

'She's read every self-help book out there and helped Demi compose the announcement of her split.'

As well as giving 49-year-old Demi a shoulder to cry on, Jen has even loaned the star her yoga instructor Mandy Ingber and her private chefs Jewels and Jill Elmore.

The two actresses became close when they co-directed Five, a series of short films about breast cancer for US TV network Lifetime, just before Demi's marriage breakdown in November.
Read the full story about Demi Moore and Jennifer Aniston in Now magazine dated 9 January - out now!
READ ABOUT Demi Moore's search for the truth about Ashton Kutcher's affairs here >>
SEE PICTURES Demi Moore and Ashton Kutcher in Celebrity splits 2011>>
SEE PICTURES Celebrity toyboys>>