Friday 06 January 2012
Harry Styles and Louis Tomlinson plan to buy Ashley and Cheryl Cole's old flat?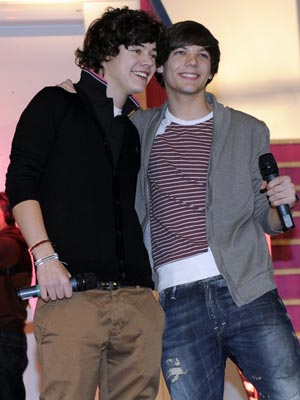 Harry Styles and Louis Tomlinson are best mates
Harry Styles and Louis Tomlinson are reported to want to to buy Ashley Cole's former north London apartment.
The One Direction stars could be forking out £3m for the penthouse, which footballer Ashley, 30, is said to have once shared with now ex-wife Cheryl Cole, 28.
'Most lads dream of lording around a footballer's pad, so Harry and Louis have earned bragging rights,' says an insider.
The pair - whose close friendship has prompted fans to label them 'Larry Stylinson' - are already living in the plush flat, which they reportedly rent for £3,000 a week.
'Harry and Louis are living the life of luxury,' a source tells the Daily Star.
'They're loving every single minute.'
Niall Horan, Zayn Malik and Liam Payne, all 18, also live nearby in the same development.
SEE EXCLUSIVE VIDEO Teen Now meets One Direction>>
SEE VIDEO One Direction mobbed by screaming fans in London>>
NEW PICTURES One Direction promote new single What Makes You Beautiful on Radio 1>>
SEE PICTURES The X Factor 2011 live shows - Amelia Lily makes a triumphant return in week 6>>

SEE PICTURES The X Factor 2011 - week 2>>
SEE PICTURES The X Factor final 16 contestants settle into their new house>>
SEE PICTURES The X Factor 2011 Final 16>>
SEE PICTURES The X Factor 2011 Final 32>>
Esme Riley