Thursday 05 January 2012
Lucky Caroline Flack! Harry Styles' sister: He's thoughtful and caring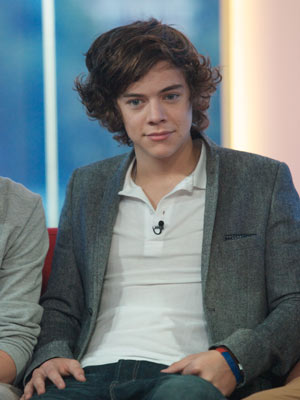 Harry Styles has made no secret of his crush on Caroline Flack
Harry Styles' loved ones appear to have given him the go-ahead to date 32-year-old Caroline Flack.
The One Direction heartthrob has been romantically linked to Xtra Factor host Caroline since they kissed at a party in October - and Harry's sister Gemma has no problems with the 15-year age gap.
'If he's happy, we're happy,' says Gemma.
'We're always going to be supportive of each other, whatever happens in our lives.
'I guess we're quite liberal in that way.'
And Gemma reckons Harry, 17, won't be shy in making his intentions known.
'Harry's very thoughtful and caring,' she says.
'If he likes someone, he'll tell them. He won't hide how he's feeling.'
SEE EXCLUSIVE VIDEO Teen Now meets Harry Styles and One Direction>>
SEE VIDEO Harry Styles and One Direction mobbed by screaming fans in London>>
NEW PICTURES Harry Styles and One Direction promote new single What Makes You Beautiful on Radio 1>>
Esme Riley