Wednesday 04 January 2012
Hair mare! Coleen Rooney reveals shock bald patches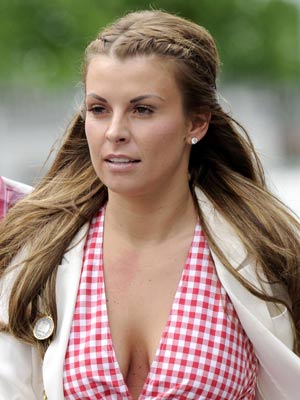 Coleen Rooney risks permanent hair loss if she doesn't take a break from her extensions
Poor Coleen Rooney. Her love rat hubby Wayne Rooney's already balding - and she might be following suit.

The footballer's wife was snapped with a patch of thinning hair while out partying recently at Liverpool's PlayGround Club.

It comes just six months after her hubby Wayne, 26, had his own £30,000 hair transplant.

So could there be a connection between Wayne's bad boy behaviour and Coleen, 25, losing her locks? Nah.

Experts reckon the bald patches are more likely to have been caused by years of wearing hair extensions. And here's the worrying bit: the hair loss could turn permanent if she doesn't give them a break.

Joanne Cunningham, hair expert from International Trichology Consultants, Greater Manchester, tells Now: 'The patchy loss Coleen has been experiencing may be caused by hair extensions and she needs to give them a rest.

'Persistent traction can damage the hair follicles, resulting in permanent alopecia. This type of hair loss is not suitable for transplant.'

Yikes.
See the pictures and read the full story about Coleen Rooney's shock hair nightmare in Now magazine dated 9 January 2012 - out now!
SEE PICTURES Wayne and Coleen Rooney - their love story so far>>
SEE PICTURE Wayne Rooney's tattoo in honour of baby Kai>>
SEE PICTURES Wayne and Coleen Rooney's wedding photos>>